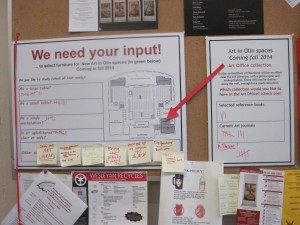 In late February we put posters up in the Art Library and Olin, asking how to furnish the new Art in Olin spaces.  Thanks to all of you for your comments! Here are the results.  The lower response rate in Art is due to the fact that the Olin poster went up a week early:
43 votes for large tables (35 in Olin ; 13 in Art)
33 votes for small tables (23 – Olin ; 10 – Art)
52 votes for individual workstations (44 – Olin ; 8 – Art)
45 votes for upholstered chairs or sofas (31 – Olin ; 14 – Art)
As you can see, only small tables had significantly fewer votes than the rest, so we will be considering a variety of furnishings in the final design.
In the Art Library we also asked whether current art journals or selected art reference materials should be housed in the Art Office, next to the new collaborative study space.  The art journals received three times as many votes as art reference materials, demonstrating a clear preference.
______________
In addition to answering the questions we asked, you also gave us additional suggestions for things we can improve or provide.  Lighting was on many people's minds:
 "Lots of windows/good light"
"Near windows = good √ YES"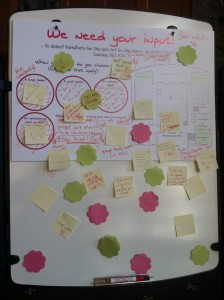 "MORE OUTLETS, better lighting"
"LIGHT PLEASE!!!"
Comfortable seating was also stressed:
"More cozy spaces for studying i.e. couches & chairs √ √  Yes!"
"Many sofas / old lounge chairs also tables shaped like this  |__|  (next to window) and PLANTS"
"Get new sofas by the window √ √ √"
As was the need for quiet space:
"A room where phones must be on silent not vibrate. Signs enforcing   Yes!!!"
"More spaces that are designated as being completely silent would be appreciated! agreed!  √√"
And gender-neutral bathrooms [BTW, a gender-neutral bathroom will be installed in Olin early this summer.–P.T.]:
"All Gender Bathroom Obvi "
"DeGendered bathrooms"
Of course, not everyone agreed on what would be best.  There were short exchanges:
"Place to buy snacks!  No.  No.  No.  No."
"Adjustable chairs !!    Waste of Funds"
"Love quiet spaces!    NO!"
As well as longer debates:
"Keep Art Library as is. ~*~that wud b gr8 ~*~"
"My study preferences include: working in the ART library. That is all.  √"
"I don't understand what is important about the art library as it is. Things change, books move, that seems OK. There are a lot of things wrong on this campus–the elitism, need-blind, low income students of color getting kicked out every year, the natural gas plant, etc. Getting worked up to save the art library seems like a bourgeois occupation … kind of like fiddling while Rome burns or something. Am I wrong?"
"I would much rather devote money and resources to a student in need than to the art library!    yes!!"
"If you're so concerned about bourgeoisie preoccupations, transfer to a community college" [As the product of a great community college myself, I was a little peeved at the implication.—P.T.]
"What about the students on financial aid that work at the Art Library that will lose their jobs."
 "What about guidance mentorship for first-gen low income students, something Wes actively dismantled?"
It is great—and very Wesleyan—that members of our community take every opportunity to engage in debate.
And finally there were the outré comments:
"Florescent adolescent"
"Russian Constructivism   √"
"No Lamps. No Books. Anywhere."
"Kiddie pool filled w/ yogurt and/or puppies"
Thanks again to all of you who took the time to comment.  Your suggestions will be invaluable in creating new library study spaces and enhancing existing areas so you can do your best work.  [And—my promise—no puppies will be harmed in the process.—P.T.]