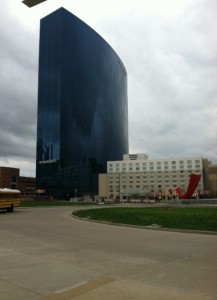 This past week I attended the 2013 Association of College and Research Libraries (ACRL) Conference in  Indianapolis.  (Great city—very walkable with wonderful restaurants and museums.)  The ACRL Conference provides opportunities to talk to colleagues and vendors about developments in academic library systems, resources and services.  This is the first post in a series about issues raised at the conference:
Health Equity in Academic Libraries, Not Just For Those We Serve. Presenter: Kiyomi Deards (University of Nebraska – Lincoln)
What is the culture of sickness and wellness in the organization?  Ongoing health issues range from socially acceptable (for example, allergies or asthma) to stigmatizing (mental health problems, 'invisible' issues like chronic fatigue syndrome).  It is important to have a documented and well-publicized policy for dealing with ongoing or unexpected health issues, with generous sick leave and a process to deal with possible abuses.  Managing physical and psychological stress is also essential for a healthy workplace.
Diversity Beyond the numbers. Presenters: Jaena Alabi (Auburn U.); Kawanna Bright (Florida International); Debnorah Lilton (Vanderbilt); Pambanisha Whaley (Auburn U.)
Psychological contract violation: The difference between an organization's policies regarding diversity and its actual practice, and how this may disillusion diverse employees.  How to prevent this?   Make sure organization has fully-implemented commitment to diversity; don't make promises that cannot be kept.
Racial microaggressions; insults, invalidations:  These are brief and commonplace verbal, behavioral, and environmental indignities, intentional or unintentional; slights or insults.  They are directed at members of certain racial groups, but can also be directed at members of any marginalized group–gender, sexual orientation, etc.   The originator's intention is less important than the recipient's perception of being insulted or dismissed.
Examples of incivility:  Using derogatory terms, insulting jokes, intellectual belittlement, ignoring contributions, silent treatment; flaunting status, attempting to turn others against the target, deliberate exclusion, lack of feedback or guidance, deliberately overloading the target with work.
What are the consequences to the organization?  Targeted employees suffer 'death by a thousand cuts—' exhaustion, frustration, isolation, depression, anger, anxiety ….  Organizational consequences: cost of replacing employees who leave, reduced productivity as other staff members get drawn into the situation; negative publicity, other staff acting in kind and setting up a cycle of hostile behavior.
What can the organization do? Holding diversity workshops is not enough.  The organization should have zero tolerance for this behavior at any level; listen carefully to employees; and not make excuses for powerful instigators. Establish support for employees who have experienced incivility or aggression; document incidents/events; examine your own assumptions and behavior; engage in and encourage dialogue.
(Dis)Abled: Transforming Disabling Library Spaces. Presenters:  Lorelei Rutledge and Alfred Mowdood (U. Utah)
Providing services to students with impairments is not about adapting to their disabilities but understanding how current library practices are disabling to some students.  This can be applied to students of different cultures as well as students with impairments.  The University of Utah's response has been to develop a cultural competence program for librarians, library staff and student workers.  The emphasis is on respect for differences of all kinds, listening carefully and respectfully to library users, extensive and ongoing staff training, and aligning with the values and initiatives of the university.
Serving Those Who Serve: Outreach and Instruction for Cadets and Student Veterans.  Presenters:  Nancy Fawley (U. Alabama); Nikki Krysak (Norwich U.)
Cadets have very structured training and class schedules—similar to those of many student athletes.   Because of these demands, cadets often have problems balancing their military training and academic work.  Veterans are often older than other students, have a greater respect for authority, and have led units in difficult situations.  But they may be uncomfortable seeking help with academic issues or speaking with others about their military service.  They may also have 'invisible' impairments such as post-traumatic stress syndrome (PTSD) that can manifest itself in subtle ways, affecting their ability to function in the classroom.
The library can help cadets and veterans by setting up peer mentoring programs to help new cadets/veteran students, providing workshops and self-service study tools (such as online resource guides to various subjects), and creating study spaces that are comfortable and safe for veterans who may  be suffering from PTSD.
Mutant Superheroes, Contained Chaos, and Smelly Pets: Library Innovation Through Imaginary Anarchy.  Presenter: Keith Gilbertson (Virginia Tech)
Gilbertson gave a very personal, engaging talk on the importance of listening to and supporting staff with differences, and their unique ability to contribute to organizational innovation and change.  His job at Virginia Tech is to subvert current practices in a progressive way.  The trick is to do this while still advancing the institution's goals.