This week is Open Access Week.  It is not a topic to make anyone's heart beat faster, but it is an important movement to make scholarly and creative work more accessible to students and researchers, regardless of their (or their institution's) ability to pay.  What is it, exactly, and why should Wesleyan pay any attention?  In the next several days I'll be exploring various aspects of the open access movement in detail, starting with the factors that contributed to its emergence in the early 1990s.
Scholarly publishing through the ages …
Since the seventeenth century, scholars have shared their work through books and articles published by a variety of scholarly societies and other organizations.  Commercial, for-profit publishers were not a major force in scholarly publishing until after World War II, but over the next twenty years they came to dominate the market.  With the shift to for-profit scholarly publishing, the cost of subscriptions rose at an accelerating rate, reaching an average annual increase per journal of 8% in the 1970s, and sustaining that increase for the next 30 years.
In the 1990s, publishers began producing electronic journals, and later bundled them into subscription packages for libraries, called 'big deal' subscriptions.  As a result, libraries were able to provide access to many more journals than before, at a lower cost per journal than in the days of print.  But because of many of the journals treated subjects that did not match faculty or student research interests, many of the journals were rarely or never used.  'Big deal' packages limited libraries' ability to save money by cancelling rarely-used journals, but they were usually more cost effective than subscribing to the most-used journals individually.  As a result, more and more of the library's acquisitions budget has been tied up in the big deals.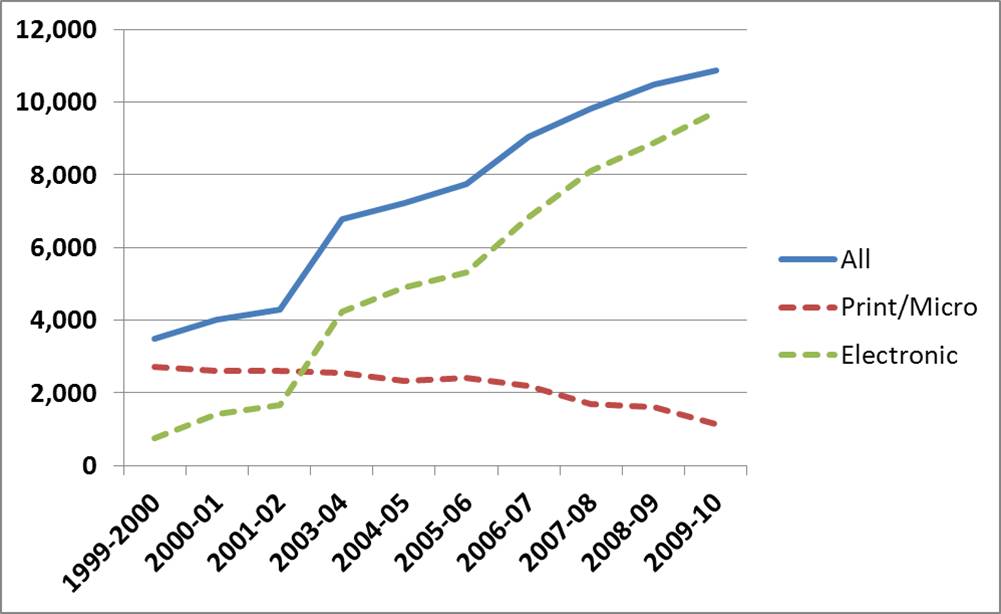 # of Wesleyan journal subscriptions, 1999-2010
In the meantime, the number of electronic resources—and the demand for them—has increased exponentially.  With the advent of electronic indexes in the 1980s, articles in formerly obscure journals became easier to find and demand for them increased.  Statistical data, which was of limited use in print books, has become extremely accessible and manipulable in electronic form, as well as increasingly expensive.  Large audio, video, and image databases are now available in subscription form, providing access to large collections of media files that are needed both in assignments and in scholarship.
So now there are more resources in demand than ever before, and the price for them increases every year.
What's a library to do?
Academic libraries, whose budgets have not increased at the same rate as subscription costs, have tried a variety of strategies.  They lobbied their institutions for additional increases to their materials budgets to maintain full access to the journals their patrons needed.  But although this was sometimes successful for a few years, most institutions just were not able to provide this level of support indefinitely.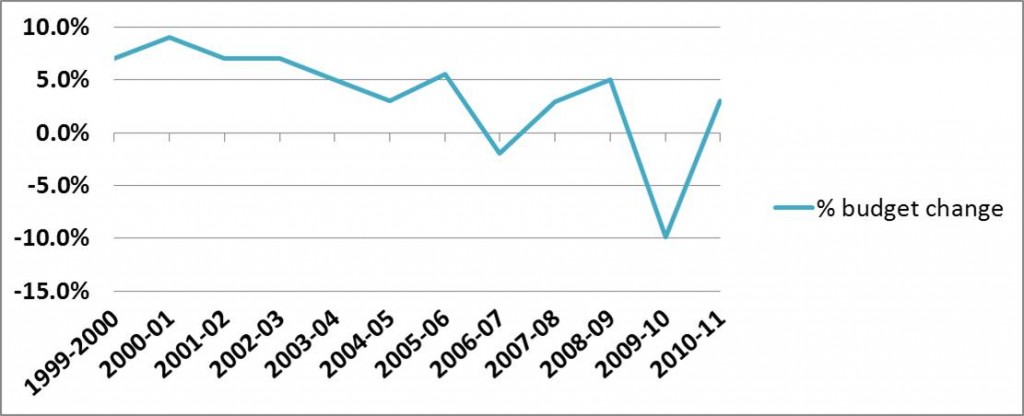 Percent change in Wesleyan Library acquisitions budget, 1999-2011
Libraries worked with their faculty to cancel journals that did not get much use, and cut book budgets to cover journal subscription increases.  The problem with reducing the number of journals and books immediately available from the library, particularly before the improvements in interlibrary loan, was that students and faculty following a research trail could be stalled for a week or more while waiting for an item to arrive from another library.
The bottom line is that all academic libraries provide direct access (through purchase or subscription) to more scholarly and creative content in an absolute sense than a generation ago, but a smaller percentage of the total universe of scholarly content.  Interlibrary loan services have greatly improved as processes have been automated, but some electronic resources such as data sets are not loanable, and there are limitations on loaning most electronic books.
The accessibility gap
At Wesleyan and other private, liberal arts institutions, this accessibility gap is of concern because of the extensive research done by students and faculty and the library's commitment to supporting this research, wherever it leads.  At less-wealthy schools in the United States and elsewhere, the situation is far more dire.  Some academic libraries have had to drastically cut their book budgets to cover increased subscription costs, or cut journal subscriptions while limiting interlibrary loan requests to stay within their operational budget.  Often publishers require that libraries restrict the use of their electronic resources to current students, faculty and staff, so independent scholars are prevented from accessing them.  Scholarly and creative work is becoming less and less accessible to students and researchers.  And that puts at risk the whole scholarly enterprise.
In my next post I'll talk about the rise of the open access movement in response to this crisis.