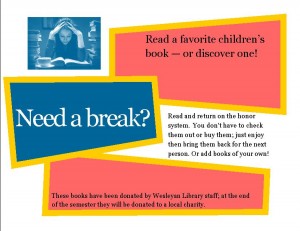 The end of the year can be a stressful time.  Theses are due, assignment deadlines come thick and fast–it seems like the summer will never be here!  An occasional break can ease the tension and re-energize you to do your best work.
If you're in the library, take a break by reading a favorite children's book!  Wesleyan library staff have contributed new or gently used children's books and they are now on display in the Art Library, Olin, and the Science Library.  You don't need to check out or buy a book–this is strictly on the honor system.  Just bring it back when you can for the next person.
Books that are still in good condition at the end of the semester will be donated to New Horizons Domestic Violence Services, to distribute to children in their program. (So if you have any children's books you'd like to add, please do!)
We hope that this helps to ease the end-of-the-year stress just a little bit.
(And for a great timeline of picture books for children, go to Picturing Books.)
Update, June 8, 2011: 105 books were donated to New Horizons Domestic Violence Services; thanks to everyone who gave books and to New Horizons for working with us to get the books to the children!