CTW MOA – IAT!  (Librarians love acronyms. )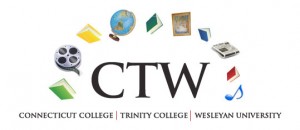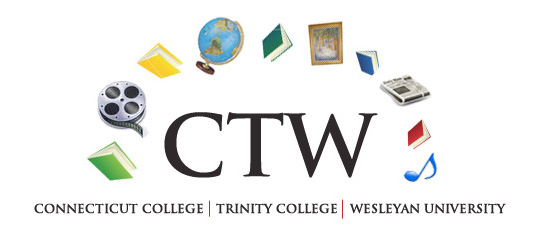 'CTW' is short for the CTW Consortium, consisting of Connecticut College, Trinity College and Wesleyan University.  The consortium was established in 1987 so the three libraries could share the cost of an online library catalog—then a new-fangled replacement for the card catalog.  But we also began sharing our collections via a delivery service that ran between the three libraries with the library at University of Connecticut at Storrs thrown in for good measure.  The delivery service has worked well over the years and it has often been faster than requesting books through interlibrary loan.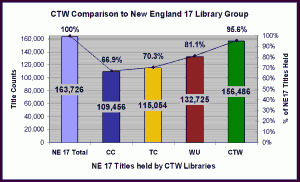 The speed of CTW delivery, the increasing efficiency of interlibrary loan, and the shift to electronic resources have enabled us to think differently about our collections and services.  A few years ago CTW began to talk about how we might coordinate our collection building, to increase the number of books we provide access to, and do so in a more cost-effective way.  In 2007 CTW was awarded a Mellon grant to explore how we might share our collections more effectively.  We first analyzed our collections, separately and in combination, and compared them to the collections of peer liberal arts schools and some smaller research libraries.  We found that our combined CTW collection was strong, but could benefit from more coordination in collection development.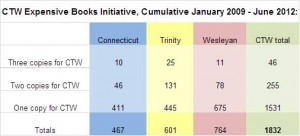 To that end, CTW successfully piloted a process to reduce duplicate orders for expensive print books that we might share through our delivery service.  We are also experimenting with consortial access to some ebook packages, using innovative pricing models.  The patron-driven acquisitions pricing model was intriguing—the consortium paid only for ebooks once they were accessed a second time by someone on our campuses—but was not ultimately less expensive per book.  CTW is now trying a short-term loan pricing model, in which the consortium pays a small price for the first 4 uses, and purchases the ebook on the fifth use.  We are tracking the use and costs of this experiment so we can assess it once the pilot is complete.
The grant project has ended, but CTW continues to work together to coordinate our collection management practices.  Both Wesleyan and Connecticut College are conducting significant weeding projects, and are using as one criterion for withdrawal candidates the existence of other copies in Connecticut and in U.S. libraries.  Faculty members have expressed concern that if the library withdraws a book and depends on other libraries for access, and those other libraries also weed their copies, the book will no longer be accessible or preserved as part of the scholarly record.
Libraries have been concerned about this as well, and are discussing at local, regional and national levels the importance of preserving and maintaining access to books and other materials.  Within CTW, Connecticut College—who began their weeding project the year after Wesleyan—removed from their withdrawal candidate lists any books that are also withdrawal candidates at Wesleyan.   But the consortium also wanted to formalize our commitment to preserve and maintain access to books and other materials in our collections.
This is where the 'MOA' comes in—a CTW Memorandum of Agreement on Final Copies.  By this agreement, If there is a single copy only of a book in our combined collection, the library that holds the copy will confer with the other two libraries before withdrawing it.  If one of them thinks the book should remain in the consortium, either the original library or the library wanting retention will keep the book.  Doris Kammradt, who is the Head Librarian for Collections and Bibliographic Services at Trinity College, drafted up the MOA along with a general policy to share collections within the consortium.  The CTW Consortium library directors approved these documents on Oct. 4 of this year.  Other library groups have expressed interest in this agreement as a model they may adopt.
Libraries—and library collections—are changing in radical ways.  But as a profession we remain true to our commitment to preserving the complete corpus of scholarly and creative works, and to making those works accessible to students, scholars and others in the most useful and usable formats.  CTW's memorandum of agreement and those of other library groups are formalizing and documenting that commitment.
'IAT'?   It's About Time!