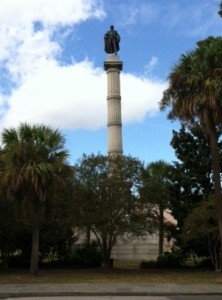 Last week a group of us attended the Charleston Conference, focusing on library acquisitions and collection management issues.  (Charleston, South Carolina is a beautiful city, with great food and better hospitality.) The conference provided an opportunity to hear how others—in libraries, scholarly publishing and information systems—are dealing with the continuing evolution of print to electronic resources.  Those of us from Wesleyan and CTW also shared our experiences of weeding projects and shared purchase-on-demand e-book programs.
Here are a few highlights:
Librarians in the Post-Digital Information Era: Reclaiming Our Rights and Responsibilities.  The conference got off to a rousing start with Jenica Rogers from SUNY Potsdam.  Several months ago Jenica made news when she publicly announced that her library would not renew their contract with the American Chemical Society, due to their insistence on certain contract terms.
Jenica's talk was addressed to librarians, calling us to defend our institutions from unreasonable practices by for-profit vendors.  She specifically challenged us to refuse to sign non-disclosure agreements with respect to prices and licensing terms, calling instead for transparency and a free exchange of information.  She likened the current business relationship between libraries and vendors to an abusive domestic relationship.  Jenica urged us not to continue to act co-dependently towards vendors, and to challenge terms that are unreasonable or predatory. "There is a price for stepping forward, but you need to consider the cost of not stepping forward."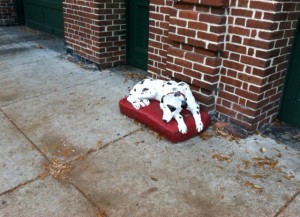 Changes in scholarly publishing:  The traditional mission of the scholarly society is to facilitate communication between researchers in a specific field.  But the digital age has reduced the need for scholars to attend conferences or read journals—there are so many ways to share work easily and quickly with colleagues online.  And the open access movement, which for more than a decade has been exploring new, more sustainable models for sharing research than the traditional journal, is a potential threat to an important revenue source for scholarly societies.
Will the digital age be the death of these societies or the means to revitalize them?  Representatives from the American Chemical Society, the Modern Language Association and others discussed their plans for making their societies relevant in an electronic age.  The MLA Commons is one example of a site meant to bring scholars together to share their work.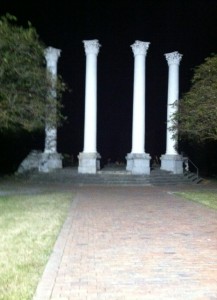 Libraries as publishers:  There is a growing trend in libraries to engage in some form of publishing.  The Library Publishing Toolkit has been created by a group of New York State libraries to share case studies and best practices for library publishing efforts.  And bepress has just announced a certification course for library-led publishing initiatives.
Bryn Geffert, Amherst College Librarian, spoke about the recently established Amherst College Press.  The ACP is experimenting with a new open access model funded using library and other institutional resources.  There will be no cost to access their publications, and no author fees.  The plan is to eventually shift library funding for subscriptions and access—which restricts use to members of an institutional community—to funding for the creation of high-quality scholarly products that are accessible to everyone.
Rick Anderson of the University of Utah described the digitization of unique special collection and archival material as a form of publishing—allowing the discovery and dissemination of previously unique material to the entire scholarly community.
Scholarly publishing is no piece of cake: The Scholarly Kitchen recently posted an entry: 73 things that publishers do, providing insight into what goes into publishing an scholarly work.
Collections are for Collisions: Let's Design It Into the Experience. Steven Bell of Temple University gave an engaging talk on how to engineer meaningful serendipity between our users and collections.  What can we do to facilitate a spark between a student and a work that might change their life?   Ideas for doing this include: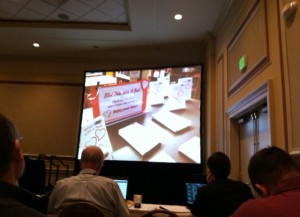 –          Creating 'impulse zones' with books in places where people are but books usually aren't (computer labs, for example).
–          Having students curate displays of works that are important to them, and explaining why.
–          Establishing a "Blind date with a book" program – Wrap up library books with a barcode on the wrapping – urging students to check them out.
–          Partnering with faculty to create alternative, more affordable textbooks.
–          Experimenting with systems that allow online browsing (although so far, simple online 'browsing' does not have the same impact as browsing print books in the stacks).
Changing Academic Library Operations.  Jim Dooley from the University of California-Merced, talked about how their library has evolved since the University was established in 2005.  At the time it was unclear whether or not the library would be much used, since so much content was even then available online.  But the library is a popular space for socializing and hanging out as well as for study.  All but a handful of their serials are online.  But they have collected over 100,000 print books so far, and they continue to collect print books as well as provide access to e-books via demand-driven acquisition programs with EBL and MyiLibrary.
Creating Screen Literacy: Bridging the New Digital Divide.  Paul Chilsen, Todd Kelley, and Christine Wells of Carthage College gave a fascinating talk on the work of the Rosebud Institute in making students—from kindergarten through college—literate in the elements of effective media in a culture dominated by the screen.  Screen fluency is directly analogous to writing fluency—they are both aspects of communication literacy.
At the Rosebud Institute they guide students in the production of media projects.  This is not to create film-makers, but to teach students how to communicate using screen technologies.  It is not about learning the technology itself—Carthage has developed a peer mentoring program for students to teach each other about the latest applications.  It is about learning the essential elements in media creation and story-telling, regardless of the technology used. Knowledge of these elements makes for a more critical, thoughtful consumer of media.
It also makes students more aware and in control of their personal digital assets—their information on Facebook, Twitter, and other social networking sites, for example—and how they might use them to shape an authentic, distinctive online 'voice.'  Dr. Kelley showed an entertaining but frightening YouTube video on the amount of personal information and how it might be used:   http://www.youtube.com/watch?v=RNJl9EEcsoE .
——————–
So I was walking down a Charleston street when I see a key on the ground.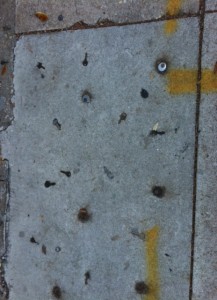 "Oh," I thought, "Somone dropped their key."
Then I looked up: