This spring and summer the libraries are undertaking major changes to consolidate collections and provide new collaborative study spaces.  Here's what's happening: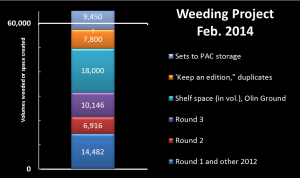 Weeding project:  For the past two years the library has undertaken a project to withdraw 60,000 volumes from our collection of one million, in order to move the Art Library into Olin and to free up shelf space for new materials.  The withdrawal target has been met, thanks to the help and suggestions of many Wesleyan faculty members, and hard work and dedication of library staff, student workers, and librarians.
Next year the library will establish an ongoing weeding process, selecting a small number of books to withdraw annually based on condition, use, availability and 'out-of-dateness,' in fields in which this is a factor.  We will be asking for faculty and student input as we develop the process, and will continue to provide updates through the WesWeeding blog.
With the completion of the project there is now enough shelf space to move the Art Library into Olin.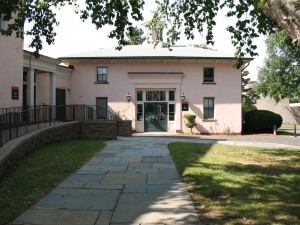 Art in Olin space: The Art Library in the Center for the Arts is much-loved, popular place for students to study.  But it is small—since 1989 it has been out of shelf space and less-used art books have been regularly transferred to Olin Library.  As a result, the art book collection is now pretty evenly split between the Art Library and Olin Library—less than ideal for students and researchers.  The space also lacks air-conditioning, so at times in the summer the temperature and humidity rise to a level that is not good for books and is very uncomfortable for students and staff working there.
This summer a new Art area will be created on the second floor of Olin Library.  In the stacks the art books will be reunited—the books from the Art Library inter-shelved with the art books now in Olin.  Art Librarian Susanne Javorski will have an office on the second floor just off the main stairwell.  Next to Susanne's office will be an area with a color photocopier and selected Art materials, and next to that will be a large collaborative study/seminar room.  Tables and workstations near the second floor stacks will facilitate the study of large-format materials and group work.
All these spaces have been designed with the needs of Art & Art History students and researchers in mind, but they will be available to the entire Wesleyan community.  Their updated functionality and style will be a welcome addition to the library's more traditional study spaces, and will also enhance Olin's symbolic role embodying Wesleyan's academic mission in the twenty-first century.
One move leads to another, and another … The Library Office and University Librarian's office, now on the second floor of Olin, will move to a new office suite on the third floor.  This, in turn, will displace the Center for Faculty Career Development, for which a new location will be found, and the Library Systems offices, which will move across the street to the Science Library.  The addition of new staff to the Science Library will be welcome—the facility is very popular, with a variety of collections and services that complement those of Olin.

New all-gender bathroom in Olin: Unrelated to the Art in Olin renovation–but of equal significance–is the creation of a single-stall, gender-neutral bathroom on the ground floor of Olin.  This is scheduled to be installed in June, and will allow library users of all genders to comfortably and conveniently use the restroom of their choice.
_________________
Wesleyan University Library is constantly evolving in response to the needs of our students and faculty. We are very pleased to be able to make these changes in our facilities in order to adapt to 21st century scholarship and create an environment that is equally welcoming and functional for everyone.