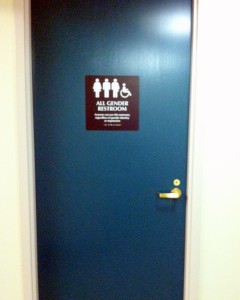 Update, July 2014:  The new all-gender bathroom is complete, providing a convenient, single-stall restroom on the ground floor of Olin Library.  Thanks to Roseann Sillasen and Physical Plant for getting the installation done!
Update, January 2014:  University administrators have approved the installation of a single-stall, gender neutral bathroom on the ground floor of Olin.  Because of the scope of the work involved, the installation will take place this summer–our apologies for the delay!  In the meantime there is a single-stall, all-gender bathroom in the PAC, accessible via the Olin connector, for those who feel uncomfortable or object to using gender-specific bathrooms.
Thanks for your understanding and patience!  –Pat Tully, University Librarian.
Original October 17, 2013 post:  This past week, the gender-specific bathroom signs have been torn off the doors on the ground floor and third floor of Olin Library (and elsewhere on campus), and replaced with 'All Gender Restroom' signs.  A statement of principles was posted as well, Desegregate Wesleyan Bathrooms.
Each morning in Olin we are replacing the gender-specific signs.  Here's why:
–          We agree that there should be all-gender as well as gender-specific restrooms in every building on campus.  Because of the age and construction of many of the older buildings, including Olin, it may not be practicable to immediately retrofit every building with all-gender bathrooms.  Designating all restrooms 'all-gender,' with no changes in the interior of the facilities, invites misunderstandings and confusion for everyone needing to use those facilities.
–          We believe strongly that it is important to maintain gender-specific bathrooms—not just because an all-gender bathroom makes some people uncomfortable, but because having no gender-specific alternative is offensive to the religious or cultural beliefs of some members of our community.
We are committed to finding ways to provide facilities and services that accommodate and respect all members of the Wesleyan community, and we welcome further conversation about this issue.