Ac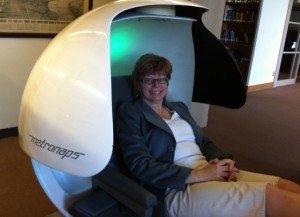 tually, Wesleying has done a much better and faster job of covering this story, but I thought I'd give the official version.
Last Tuesday, the Science Library and Olin each took delivery of an Energy Pod.  The Energy Pod is a high-tech chair created by MetroNaps, designed to facilitate power naps at work or school for up to 20 minutes.  Companies such as Google, Cisco, Proctor & Gamble and AOL Huffington Post Media Group have installed Energy Pods in their offices as a way to boost employees' productivity and alertness.
For $14 you can use an Energy Pod in the Empire State Building, but now you can take a high-tech nap for free right here at Wesleyan!  They've certainly gotten a lot of use in their first week (Olin's pod didn't have power for a time, but it is powered up now,) and there were many bemused comments from parents and alumni during Homecoming.
The pods were donated by Wesleyan alumni Christopher Lindholst '97 and Arshad Chowdhury '98, co-founders of MetroNaps.  We are extremely happy to have them, particularly as we approach the end of the semester when students are spending many hours studying in the library.  Sure, it is not as though people weren't sleeping in the library before.  But having a place to go to sleep with the assurance of being awakened after 20 minutes is much better than falling asleep at a workstation and waking up to find the library dark and the doors locked …
Many thanks to Christopher Lindholst and Arshad Chowdhury for their generous donation, and to Mark Davis in University Relations for organizing everything!