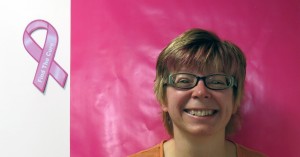 It is hard to tell from this picture, but as of Saturday I have pink highlights in my hair.  Why?
October is National Breast Cancer Awareness Month, and CitiHair Design Salon on Court Street is joining many other salons nationwide to collect funds for breast cancer research by offering pink highlights to their clients in exchange for a donation.
It is a great way to spread the word about the importance of regular screenings and research to understand the causes and find new treatments for breast cancer.
Go Pink!