What did the library do last year?  Sometimes it is hard to remember it all, especially when one project—the library weeding project—dominated much of our time and thought.   But there was so much more:
Staff changes:  Assistant University Archivist Valerie Gillispie left Wesleyan in September 2011 to become University Archivist at Duke.  Val worked closely and effectively with faculty, students, administrators and others at Wesleyan, and it was hard to lose her.  We were fortunate to have Anne Ostendarp as Interim Assistant University Archivist through the academic year.  After a national search, Leith Johnson became University Archivist in May 2012.
Cataloging Assistant Linda DeRusha retired in January 2012 after 21 years at Wesleyan.   Linda was a dedicated member of the library staff and committed to serving her fellow union members as a steward.   In May, Linnea Benton was hired as Cataloging Assistant.  Linnea is experienced and knowledgeable in the cataloging of print and electronic books.
Kathy Stefanowicz, Interlibrary Loan Assistant, retired at the end of July after 21 years.  Kathy was a a great colleague, always cheerful no matter how much work there was to do.  And she was a member of a very busy department, processing an average of 24,000 interlibrary loan transactions each year. The library hopes to fill her position sometime this fall.
The library hired two people to help with the library weeding project:  Melissa Behney in February as project librarian, and Morain Miller in June as a library assistant.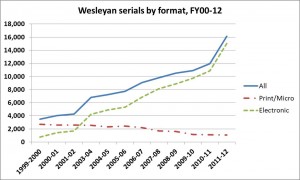 Collections:  Scholarly journals and other serial publications continued to move from print to electronic format—over 93% of Wesleyan University s journal and serial subscriptions are now electronic.  The online journal format is well-established and easy to use.  Online books are in a much earlier stage of development, and there are a variety of legal and technical limitations that need to be resolved before they are as usable as e-journals are now.  The library now provides access to almost 400,000 e-books, and this collection will continue to grow.
xxx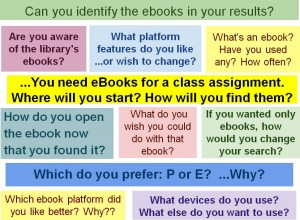 The CTW Consortium (Connecticut College, Trinity College, and Wesleyan University) made improvements to more effectively share both print and electronic books.  CTW instituted Saturday delivery of books requested between the three campuses, significantly cutting down on the time it takes to get a requested book over the weekend.  To build on its successful project to develop shared e-book collections, CTW is working with vendor EBL to provide access to e-books on a 'short-term loan' plan.
CTW also conducted a study of undergraduates' discovery and use of e-books, interviewing students, recording their search strategies, and analyzing the results, then presenting their findings to librarians and to e-book vendors.
Special Collections & Archives (SC&A) digitized several popular collections, including 'Student papers about Middletown' and 'Coeducation at Wesleyan, 1871-1912.'
With the number and variety of electronic resources proliferating, it can be very difficult for students and faculty to easily search them all.  In the past few years, a new type of system has been developed to facilitate this searching, called a web-scale discovery tool.  This past year we evaluated several tools and recommended a system well-suited to the demands of Wesleyan students and faculty.  We hope to obtain support to implement this system in the coming year.
Outreach and Instruction: The MyWesLibrarian program, in which each incoming student is paired with a librarian as their personal connection to the library, continued for a second year.  Science Librarian Andrew Klein worked with Division III Dean Ishita Mukerji to develop a for-credit course on information literacy in the sciences, which Andrew is teaching this fall.
Suzy Taraba worked with a several faculty members to develop class assignments using Special Collection & Archives materials, most intensively with Magda Teter for her seminar, "From Clay Tablet to the iPad: History of the Book in Intercultural Perspective."  One session of Magda's seminar was given over to a discussion of the future of the book, with librarians Helen Aiello, Lorraine Huddy, Diane Klare, Lori Stethers, Suzy Taraba, and Pat Tully.
In December 2011, Provost Rob Rosenthal re-established the Library-Faculty Advisory Committee (L-FAC).  The committee's work in the spring centered around the controversial library weeding project, but in the coming year the library will consult with the committee on a wide variety of library issues and initiatives.
A Library PR/Outreach Task Force was created in the fall of 2011, to explore how the library can best communicate with students about library resources and services.  The task force used a variety of methods to gather data from students and based their recommendations on this data.  These recommendations have been incorporated into the library's goals for this year.
Facilities & Space:  After recent incidents in the libraries, a Library Security Task Force was formed to recommend ways to improve the safety and security of people and collections in the libraries.   The task force surveyed library staff and worked closely with Public Safety and Physical Plant on recommendations to improve library security.  These recommendations have also been incorporated into the library's goals for this year.
Although planning for the library weeding project began in early 2011, the library formally announced the project last fall.  The goal is to withdraw 60,000 books from the library's collections by May of 2014.  To address faculty and student concerns, we conducted a semester-long campus discussion involving students and faculty, with topics ranging from the project itself to the evolving role of the library in an increasingly electronic environment.  These discussions resulted in a number of changes that improved the project and facilitated faculty participation.  The first round of faculty review ended on May 31, 2012 and the second round is underway.
One objective of the weeding project is to prepare for the move of the Art Library into Olin.  In the spring, as word of the move spread across campus, students and faculty expressed concerns that an Art space in Olin would not provide adequate facilities for working with large, heavily illustrated books, or the same ease of access to students using library materials in their studio work.  The Art Library provides atmosphere of seclusion and calm that is highly prized by many students.  In the spring of 2012 a committee of Art & Art History faculty developed a detailed proposal for an Art Library space that would provide students and faculty with the facilities they need to work and study.
Conclusion:  An increasing amount of the library's time, staff, and money are going to providing content in electronic form.  What does this mean for the future of the library?  This question, often unspoken, underlay many of the discussions of the weeding project this past year.  Certainly the library as a storehouse of books is becoming less important, but the library has always been more than a storehouse.  It is where librarians and library staff select, organize, arrange and describe content and make it available for use—activity that is largely invisible but critical to library users.  Finding one book in a million takes organization, and this is even more important for electronic resources, since there are far more of these than print books in even the largest library.  Finally, the library is a place.  In the future, the library will be less of a physical monument to scholarship, but will remain a powerful symbol of it.  And the symbolic nature of the library produces a unique atmosphere for study, concentration, reflection and creation.
If you would like to read in full the library's annual report for 2011-12, please contact me, Pat Tully, at 860-685-3887, or ptully@wesleyan.edu.  You can also find a link to the report on the library's webpage: http://www.wesleyan.edu/library/about/