In President Roth's recent blog post on re-accreditation, he summarized the following challenge for the library and other information resources:
"How do we maintain vibrant up-to-date access to the best information across a wide variety of fields?
The Wesleyan Library is one of the jewels of the campus, and it remains a great study space and intellectual resource. It is also part of a network of resources that connect student and faculty to the materials they need for study. Increasingly, this means access to information rather than ownership of materials."
President Roth's challenge is one that the library has taken to heart, and is working to meet in an ever-changing, dynamic information environment.  The Wesleyan University Library is one of Wesleyan's great assets, and this continues to be true as the library expands its resources and services beyond the local and tangible to the virtual and electronic.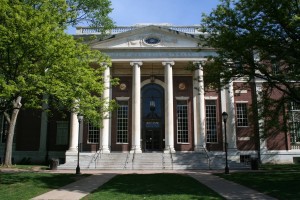 For many people, the word 'library' evokes a strong, specific image—a 'cathedral of books,' a building where print materials are stored, preserved and celebrated, a treasure-trove of scholarly and creative volumes to be explored and re-discovered.  This is a wonderful image, imbued with the awe and emotion that scholars sometimes eschew in other aspects of their work. At Wesleyan, Olin Library in particular evokes this image, with its stately lobby and the soaring spaces of the Campbell Reference Center.  This symbolic function—the library as an outward sign of an inward institutional commitment to teaching, scholarship and research—is not unimportant.  It draws both students and faculty to Wesleyan, and helps to inspire those who are here.
Tangible resources—print books, journals, CDs, DVDs and other physical collections—continue to be important to Wesleyan students and faculty both for their content and their value as artifacts.  Content qua content is increasingly being made available in electronic form, but for many types of material there are technical and legal obstacles to making them as accessible, preservable and usable as print.  Until these obstacles are overcome, the library will continue to acquire print and other physical materials when appropriate.  The study of books and other physical resources as artifacts, and as content in its original form, will always be an important aspect of scholarly work.  Special Collections & Archives and the World Music Archives will continue to collect and preserve rare and unique print and other artifacts for study by students and scholars within and outside Wesleyan.
So how is the library extending beyond its physical boundaries?
As electronic resources and services have proliferated in the past few decades, the library's scope has expanded.  Librarians and library staff provide access to an increasing variety of material in electronic form, most of which is accessible to Wesleyan students, faculty and staff wherever they are, whenever they need it.  In some disciplines, students and faculty rarely if ever have to go to a library building anymore.  They use the library virtually, sometimes without being aware that the resources they are using are evaluated, paid for, and managed by the library.
Library services such as interlibrary loan and reserves are also increasingly available online. The highly specialized systems and applications used within the library allow us to perform more efficiently the essential library functions of evaluating, selecting and assessing resources, as well guiding our users to the resources that best meet their needs.
Libraries have always placed a high value on collaboration.  We are using technology to develop new and more effective information networks for creating and sharing resources.  At Wesleyan, we share responsibility with ITS and interested faculty for WesScholar, the University's online archive of faculty and student work.  We also work with ITS and faculty on projects that involve both technology and content, such as the iPad in the classroom pilot last year.  For the past 20 years we have shared our online catalog and print collections with Connecticut College and Trinity College, our CTW consortium partners, and for the past few years we have started to share the costs of access to electronic books.  We share a storage facility for print volumes of selected journals with the Five College Consortium in western Massachusetts.  And of course we have long shared materials with other libraries through interlibrary loan.
Academic libraries are often called the 'center of campus,' symbolically and sometimes physically.  With the development of online resources and services this is true in a virtual sense as well.  The Wesleyan University Library is the campus nexus of an ever-expanding information network both within and outside the University.  The purpose of this network is to provide Wesleyan students and faculty with the material they need for their teaching, assignments and research.  Plus ça change, plus c'est la même chose …