In 2010-11 the library faced many challenges and embraced many opportunities–in short, it was a typical year!  Here are some of the highlights:
People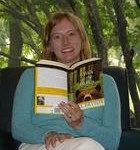 In February 2011 Lori Stethers joined the library as Systems/Emerging Technologies Librarian.  Lori is an expert on library applications and how they might be securely linked to campus systems to make them efficient and productive.  Lori's work with librarians, library staff, ITS and system vendors has already borne fruit with improved electronic reserves and the successful launch of the library's redesigned web site.
Collections
This past year electronic books have been the focus of a lot of attention both within and outside libraries.  In the fall of 2010, Wesleyan's Information Technology Services (ITS) and the library teamed up to explore how first year students would use iPads to access readings and other classroom materials.  Although the post-semester survey of participating students uncovered technical limitations with the device and the content, these will no doubt be overcome in the next few years.
The CTW Consortium (consisting of Connecticut College, Trinity College, and Wesleyan University) has just completed a three-year project funded by the Mellon Foundation.  As part of the project, CTW negotiated a contract with Coutts Information Systems for electronic books to be purchased on demand.  Purchase on demand works like this:  Coutts provides records for electronic books that meet our criteria, and we download them into our online catalogs.  CTW only pays for a book, however, after it has been used twice on a CTW campus.  Given the program's success CTW will likely continue it for at least another year.  As of May 2011, here are the most-used Coutts electronic books:
| | |
| --- | --- |
| Book | Number of times used |
| The Peloponnesian War | 98 |
| The City at Its Limits: Taboo, Transgression, and Urban Renewal in Lima | 60 |
| Spanish Frontier in North America | 54 |
| Routledge Philosophy Guidebook to Wittgenstein and the Tractatus | 42 |
| The Day Wall Street Exploded : A Story of America in its First Age of Terrorism | 38 |
| War of a Thousand Deserts: Indian Raids and the U.S.-Mexican War | 37 |
| Richard III | 37 |
| Ethno-symbolism and Nationalism | 32 |
| Theories of Development: Contentions, Arguments, Alternatives | 32 |
| Parkinson's Disease. Biographies of Disease. | 25 |
Olin Reference completed a multi-year weeding project that reduced the size of Olin's reference collection by 40%.  Many reference works are now online, and are much more useful in this format than in print.
Wesleyan's many publicly-available web pages are now being systematically archived using Archive-It, an online service that saves and makes accessible instances of an institution's web presence.   This and WesScholar, the University's online repository of scholarly work, are making possible the digital preservation of Wesleyan's institutional and scholarly history.

The Friends of the Wesleyan Library premiered the Adopt-a-Book program in the winter of 2011.  Anyone—whether associated with Wesleyan or not—may donate money toward the conservation of selected books in Wesleyan's collections that are particularly valued for their use in teaching and research, or their relationship to Wesleyan's history.
Working well with others
The library has undertaken many collaborative ventures over the past year, in addition to those mentioned above.  Alec McLane, Music Librarian, and Scores & Recordings staff worked with Professor Mark Slobin to digitize recordings as supplements to his book, Music at Wesleyan, and make them available through WesScholar.
Helen Aiello, Acquisitions & Electronic Resources Librarian, and Diane Klare, Head of Reference, acted as mentors to Andrea Berger, a library science student at Southern Connecticut State University.  Andrea worked on a variety of projects during her fall 2010 internship.
Suzy Taraba, University Archivist and Head of Special Collections, worked with History Professor Magda Teter and Congregation Adath Israel to facilitate a long-term loan of 30 items from the synagogue's impressive collection.  Special Collections & Archives will catalog and stabilize these materials and make them accessible to researchers.
Getting the word out
The MyWesLibrarian program premiered in September 2010, to provide personalized library service to incoming first-year and transfer students.  Each student was assigned a librarian through a link in their electronic portfolio, and were encouraged to contact their librarian with questions about library resources and services.  We are continuing the program this year.

In the spring of 2011, the library started a Twitter feed, WesLibNews, to provide followers with up-to-the-minute information about library services, resources, systems and events.  The library also has a Facebook page, 'Wesleyan University Library', to post pictures and other information.
In the summer of 2011 the library's web site was redesigned to have the same look and feel as other Wesleyan web sites, and for greater ease in finding resources and library services.  The CTW Consortium's combined catalog also has a new search interface with new ways to narrow search results by language, author, format and other criteria.
Events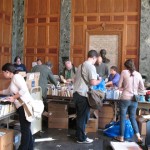 The Friends of the Wesleyan Library, led by Professor Emeritus Karl Scheibe and coordinated by Jennifer Hadley, sponsored a number of successful events this past year, including a screening of Paths of Glory with the Center for Film Studies, a Constitution Day talk by the Hon. Mark Kravitz '72, the fall book sale and the spring membership meeting with speaker Matt Warshauer, Professor of History at Central Connecticut State University and author of a recent book on Connecticut and the Civil War.
Michaelle Biddle conserved a rare nineteenth-century album of Chinese paintings, several examples of which were displayed by the Freeman Center for East Asian Studies in their Visions of Cathay exhibit in the winter of 2011.
Special Collections & Archives mounted two major exhibitions: Food for Thought (Suzy Taraba and Val Gillispie, Fall 2010) and Building Wesleyan's Poetry Collections: Frank Kirkwood Hallock (1882) and Caroline Clark Barney (1895) (Suzy Taraba, Spring 2011).  They also hosted well-attended open houses during Homecoming/ Family Weekend and Reunion/Commencement, as well as special open houses for April Fools' Day and in conjunction with the Friends program on the Civil War.
Erhard Konerding, Government Documents Librarian, was a contestant on Who Wants to be a Millionaire, which aired in May 2011.
In the coming year …
The major initiative in the library next year will be a two-year, 60,000-volume weeding of the collections, to create space in the libraries for new material and innovative study spaces.
In addition to this massive project, Systems will explore ways to improve access to library resources through mobile devices, Special Collections & Archives will begin digitizing 19th century issues of the Argus, Scores & Recordings will evaluate the preservation and security of digitized versions of World Music Archives field recordings, and Reference will add a text reference service to its methods of reaching out to students.
The CTW Consortium will be evaluating a new interface for our catalogs and exploring discovery tools to make it easier to search online collections quickly and efficiently.
It is going to be another interesting year!
The complete report is available as well: http://www.wesleyan.edu/library/about/annualrpt2011rev.pdf