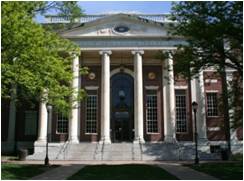 People have a very definite image of libraries and librarians.  The library is often seen as a 'cathedral of books,' and librarians as 'Marian the Librarian.'  Those of us who work in libraries know these stereotypes have never reflected reality.  But they have proven surprisingly powerful, even in this electronic age.   What is the perception, and what is the reality?
Perception:  Libraries are storehouses of print materials. Reality:  Throughout their long history, libraries have been storehouses of content, in a variety of forms.  Ancient and early medieval libraries were storehouses of materials in manuscript form.  Once printing was invented libraries began collecting content in printed form, because that is how most content was documented and used.  In the late nineteenth and early twentieth century, with the advent of moving images and sound recordings, libraries began collecting cylinders, vinyl disks, tape, and film, in addition to printed materials.  In the 1980s when content began to be digitized, libraries provided access to digitized data both on physical media and online.  Libraries still provide access to printed material because printed material is still useful to many of our patrons.  But the library is not all about print.
Perception: Collection building is only necessary for content in a physical format—print or items in physical form.  It is no longer needed for content in electronic form.   Reality:  The library selects content based on what its users need and want, providing equitable access to all its users.  This is as necessary for electronic content as for content in a physical form.  In fact, the great variety of content now available in electronic form—including much that the library did not collect in physical form—makes careful selection and collection building more necessary than ever, to provide access to useful information while staying within budget.
Perception:  Acquiring electronic content is easier than acquiring materials in print. Reality:  There are only a few options for acquiring a print book or journal.  The library buys the book or subscribes to the journal, either directly from the publisher or through a vendor.   For some electronic resources there are many more options—individual or consortial subscription; owning or accessing content; single or bundled subscriptions; access at the journal or the article level; full or limited access to content. The library must evaluate and decide which option is best before negotiating with the vendor.
Perception:  Providing access to electronic content is simpler than maintaining print collections.  Reality:  To provide access to a print book or journal the library enters a record for it into the catalog, labels the item, puts it on the shelf, and re-shelves it in the same place after use.  Damaged or lost books are repaired or replaced.  Electronic resources may or may not have a record in the catalog.  Instead (or in addition), they may be added to an online list of journals or databases with links to each resource.  They may also be accessible through Google Scholar or other system.  Access may be lost temporarily either by publisher's decision to change their platform, or accidentally as the result of a publisher or vendor system upgrade.  In either case, the library must identify the problem and work with the vendor to restore access.  If a subscription is cancelled, the library may or may not have the right to access the content published while they subscribed.  If we do have post-cancellation rights of access, this may take the form of hosting the data on a local platform, or, for an annual fee, of using the vendor's system to provide access.
__________________
A librarian of my acquaintance recently said to me, "What did librarians do before there were electronic collections?  I spend most of my time managing them."  Of course part of this is that content in electronic form relatively new and constantly changing.  With a mature format like the print book or journal, there are well-established processes and business practices for publishers, vendors and libraries that change over time, but relatively slowly.  Procedures have been tested and refined to maximize efficiency and cost-effectiveness.
But there are no such well-established processes—either in publishing or in libraries—for materials in electronic format.  Publishers and vendors implement new pricing and access models all the time, and libraries are continually exploring new and more effective means of providing access.  It is all very exciting and innovative—but the efficiency and cost-effectiveness of a mature technology such as print publishing is not yet possible.
It all makes for a dy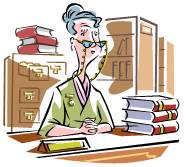 namic, confusing, sometimes overwhelming electronic environment—and a very exciting time for libraries!  The advent of online resources has made more content available to our users, and available more conveniently than at any time in the past.  It has not, however, made content simpler to manage or less costly—at least not yet.  Librarians are doing different things than we did fifty years ago, and than what we will be doing fifty years from now.  But as long as there is content to manage we'll still be around, bucking the stereotype.
Update:  For some alternative media images of librarians: http://www.themarysue.com/10-action-librarians/