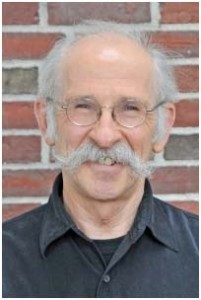 For almost 40 years, Erhard Konerding has been the Government Documents Librarian at Olin Library.  You've almost certainly worked with or seen Erhard around campus—he is one of the mainstays at the reference desk and a major go-to guy for personal research sessions in the social sciences.  He is also our tour guide de force!
Erhard was born in Germany, grew up in Miami, and went to college (Long Island University) and library school (Columbia) in NYC.  After a few years in the city, Erhard began working at Wesleyan in 1972. Wesleyan awarded him an MALS in 1982, and he is a member of the campus chapter of the Alpha Delta Phi Society.
Erhard's wife, Ilana Konerding, is a retired Wes employee. Their son David works at Google; daughter Rebecca works at the Kennedy Center in CT, a rehabilitation agency for the disabled. Erhard and Ilana have 3 grandchildren.
Erhard is an experienced trivia buff, having previously been a contestant on Jeopardy! and History IQ.  He is also a competitive crossword puzzler. He is the author of World War II Trivia Quiz, volumes 1 and 2, and Vietnam War Facts Quiz.  But there is more to Erhard than just trivia!  He is a part-time outdoor leader at Great Hollow Wilderness School, and a volunteer leader for Inner city Outings, a branch of the Sierra Club.
On Tuesday, May 17, Erhard appeared as a contestant on Who Wants to be a Millionaire.   The program was taped several months ago, and all these months Erhard has kept the secret about how he did.
UPDATE, May 18:  A group of library staff and friends joined Erhard and Ilana Konerding in the Olin Library staff lounge this morning to watch the airing of the show.  (Click here for some great pictures by Olivia Drake:  http://community.blogs.wesleyan.edu/2011/05/17/konerding-appears-on-may-17-millionaire-episode/)  Erhard won $21,500 and was calm and poised throughout the ordeal (a lot more poised than I would have been).  He did Wesleyan and the library proud!
May 16, 2011 Middletown Press article:  http://middletownpress.com/articles/2011/05/16/news/doc4dd06e59ac78d118514113.txt
April 2011 article in the Wesleyan Connection:  http://newsletter.blogs.wesleyan.edu/2011/04/01/librarian-konerding-contestant-in-millionaire/
2009 Argus article on Erhard:  http://wesleyanargus.com/2009/02/24/whether-at-alpha-delt-or-olin-librarian-stays-in-touch/