In between sessions on Thursday I visited several large electronic resource vendors at the exhibit hall, asking them how we could provide the students in the Center for Prison Education with an experience of online searching without having access to the Internet.  Since their resources are all Web-based, this was a tough question for them, but a few indicated that they will take it back to their companies and see what they could come up with for a solution.
On Thursday evening I attended Raj Patel's keynote speech.  Raj Patel is an award-winning author and activist, an authority on the world economic system and the international food crisis.  Alluding to the conference's theme, "A Declaration of Interdependence," Patel said that interdependence is ultimately about power.  For interdependence to be just, all parties must be powerful enough to negotiate the terms of their interdependence.
For example, Third World debt is seen as a crisis because the developed countries (and the banks within those countries) who are their debtors are not being repaid.  But what is seldom discussed or considered is the enormous debt the developed world owes to the Third World for the environmental damage done to them by First World development.  Patel explored the issues of inequality of income and gender inequality and how they are manifest in the issues we take seriously—or not.  He closed by urging us to look at being a part of a democracy not as consumers, waiting for its benefits to be handed to us; but as proprietors, with responsibility for making the system work for people within and outside it.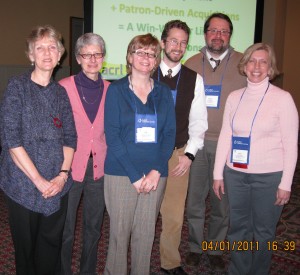 Friday morning we got together to rehearse our three-hour workshop on doing a consortial ebook purchase-on-demand project. 'We' are Steve Bischof, formerly at Wesleyan and now at the five College Consortium in western Massachusetts; Beth Hansen, Connecticut College; Lorri Huddy, CTW Consortium; Doris Kammradt, Trinity College; Andrew Klein, Wesleyan University, and me.  In the afternoon we held the workshop for a very appreciative audience of 55 participants.  Most were considering a purchase-on-demand (PDA) project for their libraries, and several were considering a consortial PDA program.   We are grateful to all the participants for their comments, suggestions and energy during a long Friday afternoon.  They made the workshop work!