Images, in the form of slides, transparencies and other physical items, have long been used in the classroom in a variety of disciplines.  But because of the number of high-quality images required by faculty in the fields of art and architecture, art departments built large slide collections to support their curricular and research needs.
Now, millions of high-quality images are available from free sites like Google Images or subscription services like ARTStor.  Although some subjects are well represented in these collections, others are less well covered.  Because of this, schools with slide collections have undertaken to digitize slides that have no electronic equivalents and collections that are unique to a department's teaching or research.   At Wesleyan, these digitized images are accessible through Wesleyan's Media Database.
Wesleyan faculty survey on image use, spring 2010
This past spring, a task force representing Art Department faculty, Academic Affairs, ITS, the Library and the Visual Resources Library was charged with planning the accelerated digitization of selected slides in the Slide/Visual Resources Library.  To find out more about how faculty currently use images, we created a survey and Joe Bruno sent it to the faculty.
Summary of survey data
42 faculty members responded to the survey (thank you!), from 16 departments and programs: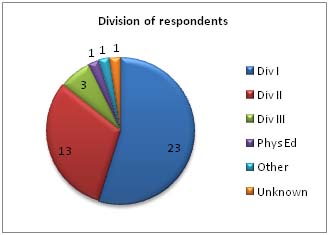 Of the faculty who responded, most use digital images in class, although a significant number use slides or books in addition to digital images.
Respondents also use Davison Art Center prints, YouTube videos, sheet music, art objects and other material in the classroom.
There were several questions about where faculty members look for images to use in the classroom or in scholarly presentations.  The results for each were similar: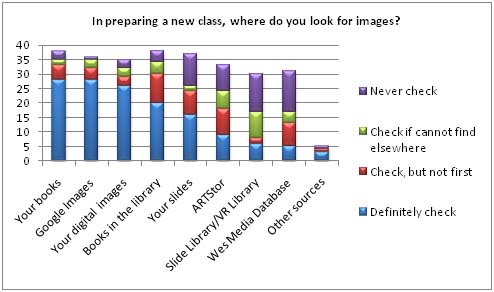 Google Images and personal collections of books and digital images were consistently the top sources checked by faculty.  Perhaps because of the subject-specific nature of the collections in the Slide/VR Library, ARTStor, and Wesleyan's Media Database, fewer faculty searched these sources.  Among the other sources respondents use are Library of Congress, Wikimedia Commons and the Digital South Asia Library (University of Chicago).
(For more image collections, check out the library's Finding and Using Images page:   http://libguides.wesleyan.edu/findingimages)
Most respondents have personal collections of digital images, and keep track of their images using file folders in their directory.  A significant number of others had no tracking system, or had developed their own file naming system.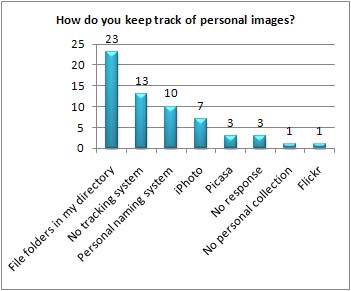 Of the listed choices, iPhoto was the commercially-available software respondents use most often to organize images; Picasa, Flickr, ImageBrowser, Blackboard and Aperture were also mentioned.
In the future …
In responding to the survey, several faculty members mentioned using video in the classroom and suggested that any system used for managing images also manage video files.   In fact there are some video files in Wesleyan's Media Database.  Like image and video files, sound recordings are available in one or more of a variety of physical and electronic formats.
We anticipate that faculty and students will rely less and less on physical formats for media, as these are converted to electronic forms.  Conversion happens slowly, particularly with works that are of more scholarly than popular interest.  Some works will likely be available only in physical formats—DVD, CD, tape, even vinyl—for some time to come.