Last summer, Ganesan Ravishanker (who most of us know as Ravi), Associate Vice President of Information Technology Services, left Wesleyan to take a job at Pace University.  Before filling this vacancy, John Meerts, Vice President for Finance and Administration, proposed a campus-wide discussion of alternative models of ITS/Library collaboration.
As part of this discussion, on March 29 John and I did a presentation at the weekly Academic (Technology) Roundtable lunch, sponsored by the Center for Faculty Career Development.  The models discussed have been successful in other places, but there are issues to be considered in deciding to adopt a different model.
Library and ITS mission statements
"The mission of the Library is to provide the information services and resources required to support the learning, teaching and research of the Wesleyan community."  From the Wesleyan University Library Mission Statement:  http://frontpage.wesleyan.edu/libr/about/mission.html
"The mission of ITS is to support the Wesleyan community in its use of information technology for teaching, research and administration."  From the Wesleyan University Technology Mission Statement: http://www.wesleyan.edu/its/policies/
There are similarities between the two statements, but also differences that correspond to the distinctive resources and services that each department provides.
Current model at Wesleyan
Currently, the Library and ITS are separate units reporting to different members of the Cabinet.  The Library reports to the Vice President for Academic Affairs and Provost.  ITS reports to the Vice President for Finance and Administration.
Jolee West, the ITS Head of Academic Computing Services, is also the Director of Digital Library Projects.  Steve Bischof, the Library's Systems/Discovery Librarian, attends some meetings of ITS Directors and staff.
Currently ITS and the library are working on a number of joint projects, including the Information Commons in Olin, the WesScholar institutional repository, and an upcoming pilot project to test ebook readers for assigned readings.
Oberlin Group of 17
| | |
| --- | --- |
| Institution | Merged? |
| Amherst | Separate |
| Bates | Merged |
| Bowdoin | Separate |
| Bryn Mawr | Merged |
| Colby | Separate |
| Connecticut College | Merged |
| Haverford | Separate |
| Middlebury | Merged |
| Mt. Holyoke | Merged |
| Smith | Separate |
| Swarthmore | Separate |
| Trinity | Separate |
| Vassar | Separate |
| Wellesley | Merged |
| Wesleyan | Separate |
| Wheaton (MA) | Merged |
| Williams | Separate |
The Oberlin Group is a consortium of 80 liberal arts institutions in the US.  The Group of 17 is a subset of the Oberlin Group institutions in the Northeast.
In the Group of 17, seven schools have a merged ITS/Library department, often reporting jointly to a CIO (Chief Information Officer).  The CIO reports to either the Provost or the President.   The other ten have separate ITS and Library departments, with formal or informal ways to collaborate on projects such as an institutional repository or other technological initiatives.
Models of ITS-Library collaboration
1. Informal collaboration between the two departments
This is Wesleyan's current model–ITS and the library are separate, and informally communicate.  An advantage of this is that each unit can organize itself and assign resources to best provide its services to students and faculty.  A disadvantage is that because the two units don't always think to involve the other in initiatives and strategic planning, some opportunities to collaborate are missed.
2. Formal collaboration between the two departments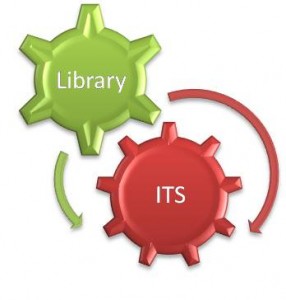 In this model, there are formal mechanisms—often either shared staff or a joint standing committee—for communicating with the other unit, so opportunities for collaboration are identified early.
But if there is disagreement between the two units about a particular initiative, it is sometimes difficult to come to a decision and move forward.
3. Partial merger of some functions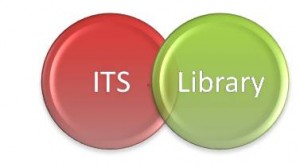 In this model, some functions of each unit—software/resource licensing negotiation, for example, or academic support—are merged into either the Library or ITS, while other functions—administrative system support or Special Collections, for example–remain separate.  The units may report to a CIO, or remain separate administratively.
However, functions that seem—at a distance—to be similar enough to streamline by merging, actually take a lot of time and effort to coordinate.  The time and effort required can reduce the anticipated efficiencies of merging.
4. Merger, with two largely separate units under one CIO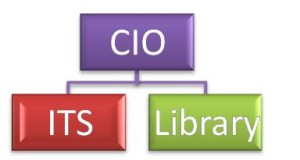 Because IT/Library mergers are often difficult and time-consuming, some institutions choose to leave the two largely separate, reporting to a Chief Information Officer.
If consensus about a joint initiative cannot be reached, the CIO can make the difficult decision and the initiative can move forward.  But because the units remain separate, fewer operational efficiencies are realized.
5. Merger under a CIO, with some merged functions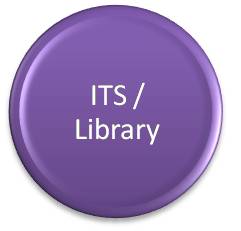 A few schools have taken the time and effort to merge completely—which does not mean a merger of functions entirely within either ITS or the Library, but of all functions that can efficiently be merged.
A successful merger is possible, but takes several years, with a lot of time, money and dedication on the part of leadership.
Some issues to keep in mind …
There are successful examples of each model of ITS/Library collaboration or merger.  Success seems highly dependent on the culture of the institution, the changes being implemented, and the personalities of the leaders charged with implementing the changes.
I've spoken to leaders at three institutions that tried a merged organization that failed.  In one case, the changes were drastic and implemented without regard to the effects on ITS or library services.  In the other two cases, the changes were similar to those that have been successful elsewhere, but the leadership did not have the confidence of the faculty, who eventually prevailed in getting the two units separated.
Key in the success of any merger is mutual respect at all levels, but particularly at the leadership level.  People who work in ITS and in the library are surprisingly similar in many ways—idealistic, hard-working and detail-oriented.  But they are different enough in outlook and working style that mergers can be surprisingly difficult.
A change in model can be successful, with leaders who respect each unit and their distinct contributions to the academic enterprise.
A few articles on ITS/Library collaboration
Ferguson, Spencer, and Metz, "Greater Than the Sum of Its Parts: The Integrated IT/Library Organization," EDUCAUSE Review, May/June 2004.
Heid, "Culture Morph,"Campus Technology, June 1, 2007.
Oldham and Skorina, "Librarians and Instructional Technologists Collaborate: Working Together for Student Success," College and Research Libraries News, December 2009.